Quick Quote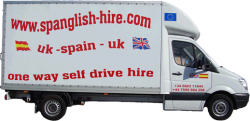 Locations
Pickup & Delivery Points
Our UK base is near Birmingham within 2 miles of the M5 and less than 10 miles from both the M42 and M6. This makes us both the most centrally and also northerly located company in the UK.

Our Spanish base is in Murcia midway between Alicante and Torrevieja close to the A7-E15.
Price Guarantee
We will beat any genuine written Spain to UK removals or self-drive hire quote


Contact us for further details

Don't fancy the drive?
We can take your belongings, and you if required from as little as £1200+VAT in a dedicated van including fuel, ferry, tolls and all other costs, subject to collection and delivery locations and type of van.